Lighting selection dry goods-restaurant lighting lighting program
Time:2020-11-07  Click volume:
The restaurant is a place where the whole family eats together. The lighting of the restaurant should create a pleasant dining atmosphere, which not only allows the entire space to have a certain brightness, but also has a certain artistic decoration effect. Therefore, restaurant lighting should focus on the dining table to establish a main light source, and match it accordingly according to the area of the restaurant, the style of furniture and the surrounding environment. Next, Affitte Lighting will discuss with you how to choose restaurant lighting.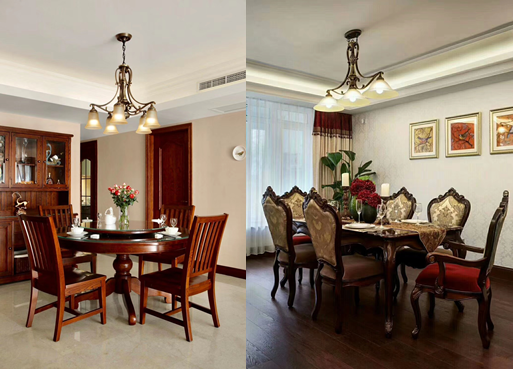 1. Restaurant lighting height
The main light of the restaurant is preferably low suspended lighting. Considering that the family will probably sit down and talk when they come to the table, the height of the lighting should not be too high. Generally, the distance between the main lamp and the dining table is about 80cm. Too high makes the space monotonous, and too low will cause oppression. Therefore, it is sufficient to choose a suspended chandelier that allows people to sit down and have a 45° oblique angle and does not cover the face.
2. Lighting direction of restaurant lamps
Dining room lights are the best to use downward lighting. Generally, traditional restaurant lights have three heads down and five heads down. Some special designs have multiple heads down. When the dining table is large, you can also choose the lighting with the lamp head upwards. The shape of the bottom pot is better, which has sufficient downward illumination light and shows the color of the dishes.
3. The shape and size of restaurant lamps
A restaurant with ample space will have more options, using chandeliers as the main light source and wall lamps as auxiliary lighting is the most ideal lighting method. If the dining area is located in the corner of the living room, when choosing lighting, you should also consider the relationship with the main light of the living room, so you can't overpower the guests.
Restaurants can consider choosing lighting products with the lamp head down. The shape of the lamps should match the table style as much as possible. Round tables with round lighting, long tables with long strip lighting products.
For a round dining table with a diameter of no more than 1.2 meters, you can choose a dining chandelier with three heads down, and for a round dining table over 1.2 meters, it is recommended to choose a dining chandelier with five heads down. If the diameter of the round table exceeds 1.6 meters, you can choose more lighting products to match.
According to the size of the table, the long table can choose two-end long meal hanging, three-end long meal hanging and 8-end long meal chandelier. You can also use the same chandeliers to line up and combine them. If the shape of the chandelier is small, the height of its hanging can be staggered to add a lively atmosphere to the dining table.